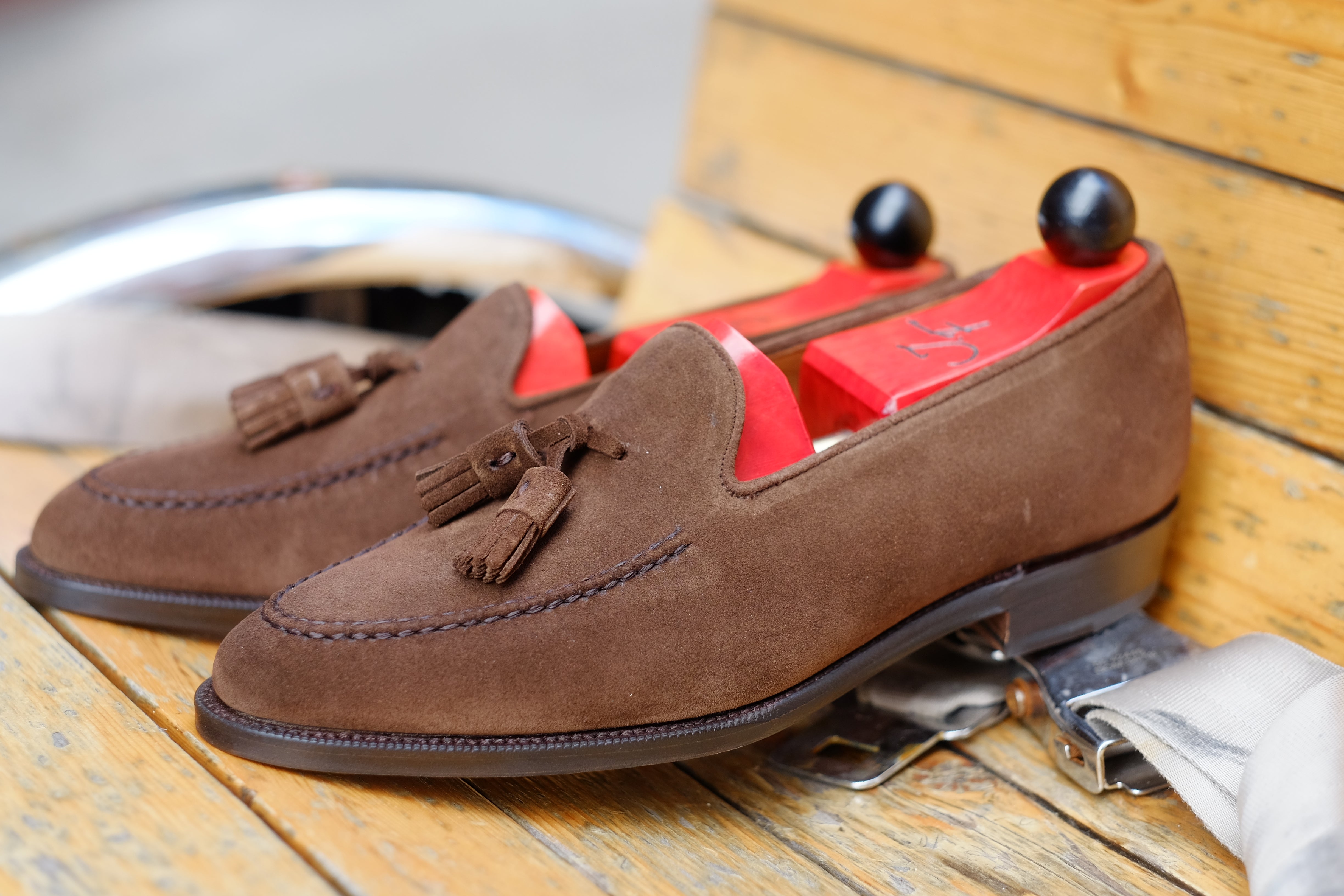 Leschi - Dark Brown Suede
Sale price
$495.00
Regular price
$495.00
(/)
Tassel loafers are back, baby! You might be on board with that in a big way; if you're not, you might have a boatload of reservations holding you back. Have no fear, we felt those same reservations and bore in mind all of them when designing our "Leschi" loafer.

This classic tassel style is the furthest thing from your dad's clunky pair: It sports a tight hand-knit apron, a tasteful low-cut opening with piped detailing, all sitting on a slim leather sole with beveled waists and pitched heels. Like we said, not your dad's old pair!

The Leschi is on our classic-round yet sleek TMG last for comfortable fit and easy, everyday styling. This dark brown suede colorway is a bit more casual and everyday than its black calf counterpart; it will make for easy office wear, as well as fitting into relaxed weekend outfits when you don't feel like lacing up into something dressier!
Model Details

Last TMG
Charles Stead Suede
Leatherboard Heel Stiffeners
Hand-Lasted Waists
Goodyear Welted
Fully Leather Lined
7 Brass Indented Nails in the toe
Combination leather/metal shank (no plastic)
Made in Spain
TMG Last

The TMG is our classic round last. Its subtle shape ensures an elegant look on any style of shoe, and its versatility enables you to wear it anywhere from the boardroom to date night.

The TMG is a classic medium-fitting last:
-Relatively generous forefoot (neither too wide nor too narrow)
-Voluminous instep
-Good for medium to broad feet
-Non-elongated last

Keep the same size in what you wear from:
-Most Crockett & Jones classic fitting lasts
-Carmina lasts (except Simpson)
-Cheaney
-Church's
-Most benchgrade English brands
Fit Details

Length: Standard
Width: Standard
Instep: Standard
Toe Box: Standard
Last shape: Classic round
Leather Disclaimer

Please note: Leather is a natural product. We take images of each shoe in all types of light to show you how the color varies. If you want a very specific color, it is best you ask us for an image of the size you wish to purchase, prior to purchasing.
Size Guide

J.FitzPatrick shoes have a broad set of fit options, from true to size, on the slim side to more wide. It will be important to make sure you read about the specific last that you are looking to purchase.

One thing to note across the board is that our loafers have been cut on the snug side, compared to the rest of the models. We did this so that you do not need to 'size down' when going for a loafer, rather recommending you stick to your oxford size (**read exception below)

Here are a few general rules

Our insteps would be considered generous
All shoes with 6 eyelets will be even more generous in the instep
Any model in full suede will feel more generous to its leather counterpart
The boots have a forgiving instep in order for you to put them on easily
Any monkstrap made on the MGF or LPB will feel more generous to its oxford counterpart
If you wear your oxfords very snug, then size up for your loafers. However, for most we recommend taking the same size as your oxfords

| US | UK | EU | JP |
| --- | --- | --- | --- |
| 7 | 6 | 40 | 25 |
| 7.5 | 6.5 | 40.5 | 25.5 |
| 8 | 7 | 41 | 26 |
| 8.5 | 7.5 | 41.5 | 26.5 |
| 9 | 8 | 42 | 27 |
| 9.5 | 8.5 | 42.5 | 27.5 |
| 10 | 9 | 43 | 28 |
| 10.5 | 9.5 | 43.5 | 28.5 |
| 11 | 10 | 44 | 29 |
| 11.5 | 10.5 | 44.5 | 29.5 |
| 12 | 11 | 45 | 30 |
| 12.5 | 11.5 | 45.5 | 30.5 |
| 13 | 12 | 46 | 31 |
Shipping Information

UNITED STATES:



All shoe orders (outside of Sample/Clearance Sale products - see those rates below) above $100 shipped within the United States include free shipping via UPS ground shipping. Should you require a faster shipment via USPS or UPS, additional fees will apply.

The USPS 2-day priority mail service used within the US aims to arrive within 2-3 working days depending on location. This is not a guarantee, however. Your tracking number provided will keep you up to date with your parcel. 

We look to ship out all purchases 1-2 working days after the time of purchase (weekends not included). During "Sale" periods we aim to ship between 2 -4 days after the time of purchase as the increase in orders affects our ability to be any quicker. Add-ons involving changes to your shoes (toe taps, rubber sole bottoms) will increase delivery time by up to 14 days. Custom patinas will increase delivery time by up to 28 days.

---

INTERNATIONAL SHIPPING:



All International Orders are shipped from NYC using UPS, DHL or USPS. Our typical courier is DHL but we will use the service that offers us the best rate. If you prefer one over the other and the one that you prefer is significantly more expensive then we will ask that you pay the difference between the best rate and the rate your preferred courier offers.


If you prefer one courier over the other, and wish to pay the difference, please indicate this in the notes section of your order. Any failure to do, will result in using the default courier that pffers the best price. Before sending your parcel, we will send an invoice to cover the difference in pricing (should there by any).

Please note: the shipping charge paid is just the fee to actually ship the parcel. This does not include any other fees to import your parcel into your country. 


Any and all import duties/fees imposed by your local custom's officials on your parcel will be the responsibility of the customer to pay for. We do not control this and will not be held responsible for any surprises in charges as we do not impose them. Your government does. We declare the parcel at the value paid. We do no under-declare parcel values. Please do not ask us to do so.

Please note, if you reject your order for not wanting to pay the custom's import taxation, we will be charged a fee for the return shipping. This fee will come out of your refund as we will are not liable for this charge due to your error in ordering. 



For Remote Labeled Areas a surcharge of the price difference between what we normally pay and what they are quoting will be required to make shipment. 



We look to ship out all purchases 1-2 working days after the time of purchase (weekends not included). During "Sale" periods we aim to ship between 2 -4 days after the time of purchase as the increase in orders affects our ability to be any quicker.

We ensure each purchase during the time it is in transit until it is delivered to you. We require a signature for any goods delivered, at which point responsibility for your purchased goods passes on to the customer. If you are not the receiver of your purchase (for example a gift order) then the person who signs for the package confirms receipt and is accountable for the package.



Orders shipped with different billing/shipping addresses will be scrutinized by our Anti-Fraud system. Of course we understand if one wants to ship to their work address. And we reserve the right to cancel any order that has been deemed fraudulent by our system.



Shipping for non sample/clearance shoes varies per country and price threshold. To get an exact price quote, please add to your cart the items you intend to purchase, input your shipping address and you will then know exactly how much we charge to your destination.

You will pay a different shipping price for cart value of $100 or less, $101-$200, $201-$400 and above $400. 

--------------------------------------------------

 

CLEARANCE / SAMPLE SALE SHIPPING POLICY:



For sample sale/clearance sale pairs, US shipping is FREE for orders of clearance pairs above $400 (i.e. two models together that create a cart value over $400). We charge a flat rate of $10 for orders over $200, or a flat rate of $20 for orders under $200.

International shipping of sample pairs is a flat fee based on shipping destination. See these below.



These higher rates reflect the fact that we normally subsidize shipping to each client's destination, but sample sale shoes are discounted too heavily to allow us to take that same price hit; thank you for your understanding on this matter.



International shipping rates for sample sale pairs are flat rates of:



Canada: $30 ($20 for purchases greater than $300)
Choose options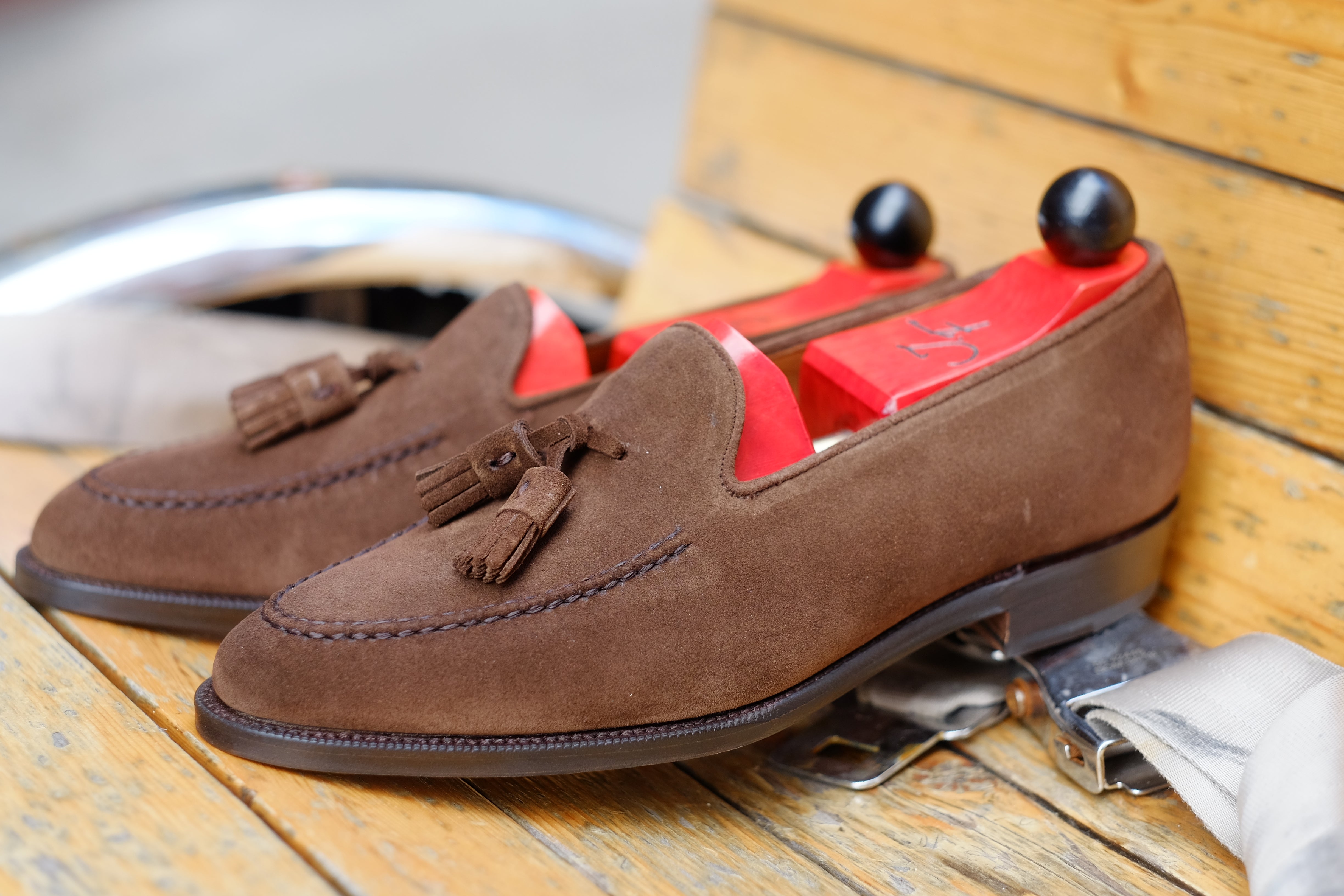 Leschi - Dark Brown Suede - PRE ORDER